Jul 22 2016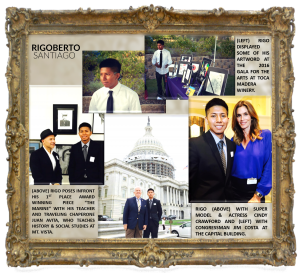 Rigoberto Santiago of Madera has been awarded 1st place in the 2016 Congressional Art Competition!  Thanks to a gofundme.com page and the generous members of the Madera County Arts Council who atteneded the 2016 Gala for the Arts in May, Rigo was able to travel, with his teacher, to Washington, DC. where his work will be displayed at our Nation's Capital for 1 full year.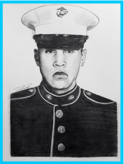 (RIGHT) Rigo's winning piece entitled "The Marine." 
To learn more about this annual competition, please see below. You may also click HERE to view all 50 State winners including Rigo representing California.
About the Competition
Each spring, the Congressional Institute sponsors a nationwide high school visual art competition to recognize and encourage artistic talent in the nation and in each congressional district. Since the Artistic Discovery competition began in 1982, more than 650,000 high school students have participated.
Students submit entries to their representative's office, and panels of district artists select the winning entries. Winners are recognized both in their district and at an annual awards ceremony in Washington, DC. The winning works are displayed for one year at the U.S. Capitol.