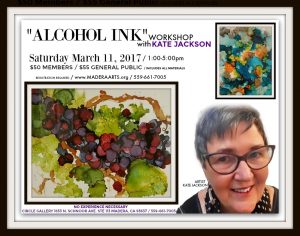 "The Grape Experiment" is a workshop designed to work with alcohol inks, which are normally used in stamping, to create abstract grapevine images in bright, rich color and texture on synthetic paper which maintains the brightness. No experience is necessary. Students are not required to draw or use brushes, but form the paintings by learning to combine alcohol inks with water and other alcohol spritzes and washes directly on the paper! Supplies will be provided for each student to work on paintings to begin their own "series". Focus will be on design principles, color theory and techniques of PLAYing with the materials.
When: Saturday, March 11, 1-5pm
Where: Circle Gallery / 1653 N. Schnoor Ave. Ste. 113 Madera, Ca 93637
Cost: $50 per person
Registration Required: (559) 661-7005 or email rdorris@maderaarts.org
About the artist:
Kate Jackson, primarily a water media artist, has worked with alcohol inks and washes over the last decade, creating her own series of grape paintings as well as other images using the same techniques. Her paintings have won awards in various competitive shows in California and have sold in the US and abroad. In summer 2016 she had a one person show of these paintings at the 17th Street Public House in Merced which was very well received. Her work can also be found here at Circle Gallery!

Sign up below using your credit card or PayPal account! Space is limited so don't wait!