Oct 26 2016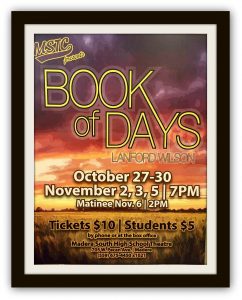 The MSTC players at Madera South High School are opening their fall show "Book of Days" by Lanford Wilson.
October 27-30 and Nov 2,3 & 5 @ Madera South High School Theatre 705 W. Pecan Ave. Madera, Ca 93637 559-675-4450 x1021
Book of Days, which has won the Best Play Award from the American Theater Critics Association. Book of Days is set in a small town dominated by a cheese plant, a fundamentalist church, and a community theater. When the owner of the cheese plant dies mysteriously in a hunting accident, Ruth, his bookkeeper, suspects murder. Cast as Joan of Arc in a local production of George Bernard Shaw's St. Joan, Ruth takes on the attributes of her fictional character and launches into a one-woman campaign to see justice done. In Book of Days, Lanford Wilson uses note-perfect language to create characters who are remarkable both for their comic turns and for their enormous depth.
"Mr. Wilson's cosmic consciousness, intense moral concern, sense of human redemption and romantic effusion have climbed to a new peak." — Alvin Klein, The New York Times; "A significant addition to the Lanford Wilson canon . . . his best work since Fifth of July . . . Book of Days manages to combine Wilson's signature character-based whimsy with an atypically strong narrative book and politically charged underpinnings." — Chris Jones, Variety; "Book of Days is lively storytelling by one of our best playwrights." — Lawrence DeVine, Detroit Free Press.




Ginger Latimer, pictured above with drama student Tanner Smith, is the director/producer for MSTC Theatre, located at the Madera South High School.  Ginger began her long teaching career in 1992 when MSHS was still apart of Madera High and known as Madera High School South Campus.
Granddaughter to Hollywood actor's Barton MacLane and Charlotte Wynters, Ginger herself had a budding Hollywood career before she went into teaching. She was Linda Evans stunt double in one of Kenny Roger's Gambler movies as well one of the Mark Harmon Coors Beer commercials in the 80's.
Barton, was in many movies working as a character actor along side such notable legends as Humphrey Bogart & Lucille Ball. His television credentials are lengthy; shows including The Munsters, The Monkees, Gunsmoke, Laramie, Walt Disney's Wonderful World of Color and Westinghouse/Desilu Playhouse kept him busy. Barton is most known however, for playing General Peterson in the popular I Dream of Jeannie series alongside Larry Hagman and Barbara Eden.
Her grandmother, Charlotte Wynters broke into acting as an ingenue in the David Belasco play, "The Wanderer", traveling from Columbus, Ohio on a train, with sheep and a boxcar full of dirt, into many cities on the east, finally on Broadway.  After retiring from acting, Charlotte Wynters MacLane, divided her time between her home in LA and her cattle ranch in the Sierra Nevada foothills of Madera County, which she continued to own until her death in 1991.